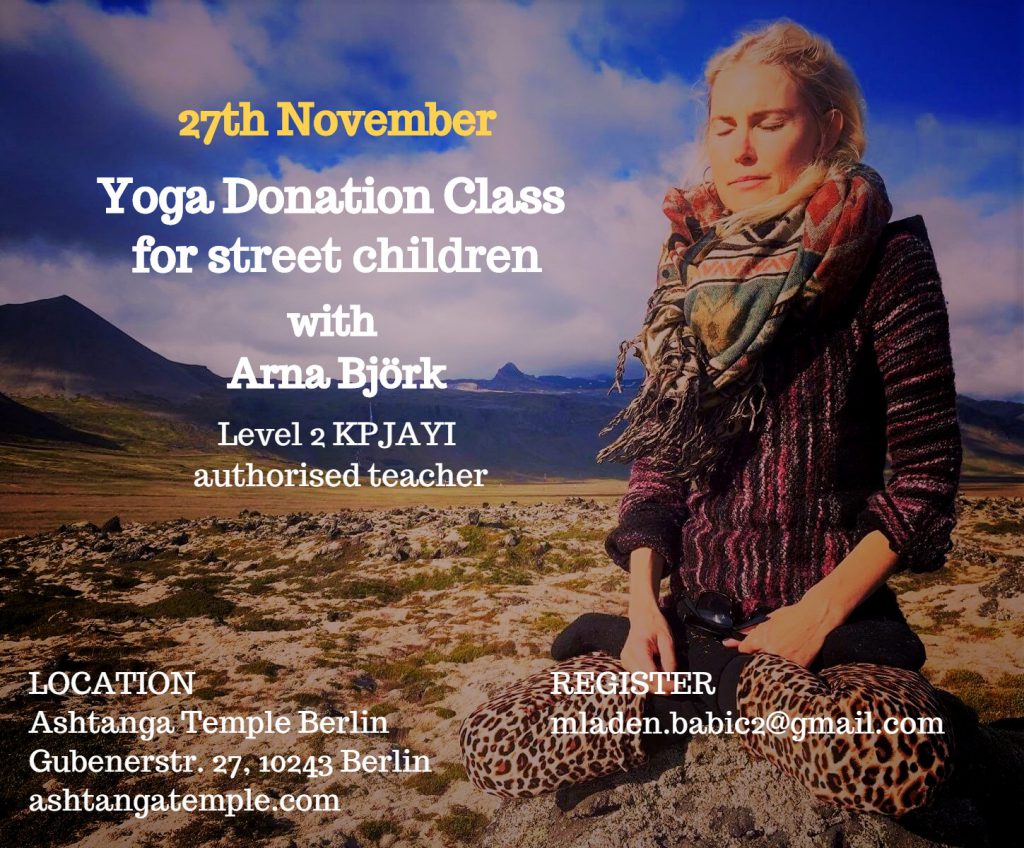 We are very happy to announce, that on Wednesday 27 November 2019, we are hosting a donation based yoga class here at Ashtanga Temple Berlin.
The donation goes to the socially disadvantaged children affected by child poverty!
The class is held by our friend Arna Björk Sveinsdóttir, a level 2 KPJAYI authorised travelling teacher, who is on a committed mission to inspire people to progress in their lives using the Ashtanga Yoga method. Check Arna's bio below.
It's a great opportunity to practice with a wonderful and experienced teacher for a good cause and support the world becoming a loving place directly through your yoga practice.
Feel free to share this event with your friends!
About the class 

— ALL LEVELS WELCOME —
This class is suitable for anyone with a motivation to learn and support regardless of previous yoga experience.
We'll start by exploring the breathing techniques that help you connect with yourself, relax and bring new energy.
Next we'll learn how to fully animate the body in the sun salutations in order to awaken the field of consciousness.
You conclude the class with a guided relaxation preparing you for a fresh and clear start of the day!
The class is held in English.
Schedule
Wednesday, 27 November 2019
Time: 07:30 – 09:00
Register
Spots are limited.
Please drop a mail at mladen.babic2@gmail.com
On Donation

Suggested donation is 15 EUR.
You are very welcome even if you are not in a position to donate due to the lack of funds. It's about creating supportive community and sharing the awareness that all of us can contribute to shape the world of love and compassion.
The donation goes to the street children aid organization (more info: https://strassenkinder-ev.de/)
Arna's Bio
Arna Björk Sveinsdóttir is a traveling yoga teacher from Iceland. She first traveled to India in 2010 to study Ashtanga yoga with Shartath Jois in Mysore. Two years later she received his blessings to teach and now holds a level 2 KPJAYI authorization.
Since her first day on the mat, Arna has maintained a strong, committed asana practice six mornings a week. Currently, she studies under the guidance of her teacher David Garrigues
For the past 5 years, Arna has been sharing the practice in Denmark, Iceland, Italy, USA, Germany, Poland, Bulgaria, Canada and Sweden. She teaches Mysore programs, workshops for beginners and advanced, Events and private classes. With devotion and passion, she is on a committed mission to inspire people to progress in their lives using the method of Ashtanga yoga.
With a university degree in sociology and gender studies as well as knowledge and background in sexology, Arna approaches life – and her students – with a strong focus on equality in mind. Also, she volunteers for several projects working with women and children who are victims of human trafficking. She is the first European ambassador for the non-profit organization Yoga PDX in Portland, Oregon. Which focuses on giving people a scholarship to practice yoga in different areas in Europe.